Licensed Blocked Drain Specialists in Heidelberg
We are a renowned plumbing company specialising in providing blocked drain services such as maintenance, cleaning, and repair to domestic customers in Heidelberg. Our notable services include pressure jet cleaning, blocked toilets, and kitchen sinks. As Sven's Special Drains Division, you can be confident that we will maintain the highest standards of care without sacrificing accuracy and efficiency. 
Driven by our corporate values of customer satisfaction, our company continues to look for innovative solutions to deliver the best outcomes for our customers. Led by our director, Sven Roelofs, our team undergoes rigorous training to keep up with industry best practices. Our training enables us to carry out all tasks per local regulations. We pride ourselves in being a local industry leader committed to living up to our reputation so you can benefit from our services. Call us today.
Safe, Effective, and Affordable Blocked Drain Services in Heidelberg
We are an esteemed blocked drain and plumbing company, widely recognised by customers in Heidelberg for our professionalism and reliability. Our constant success with projects has enabled us to carry on our legacy by offering comprehensive and excellent services at competitive prices. Our plumbers are determined to provide Heidelberg with custom-built solutions to fix blocked drains. We can offer helpful advice for your unique needs and budget.
Unattended blocked drains are a common cause of plumbing problems and a source of bacteria, increasing the risk of pests and diseases in households. Our technicians use a state-of-the-art drain camera to quickly identify the location and cause of problems in your plumbing system. We will arrive at your property fully prepared with our drainage repair vehicle. Please book our plumbing services today.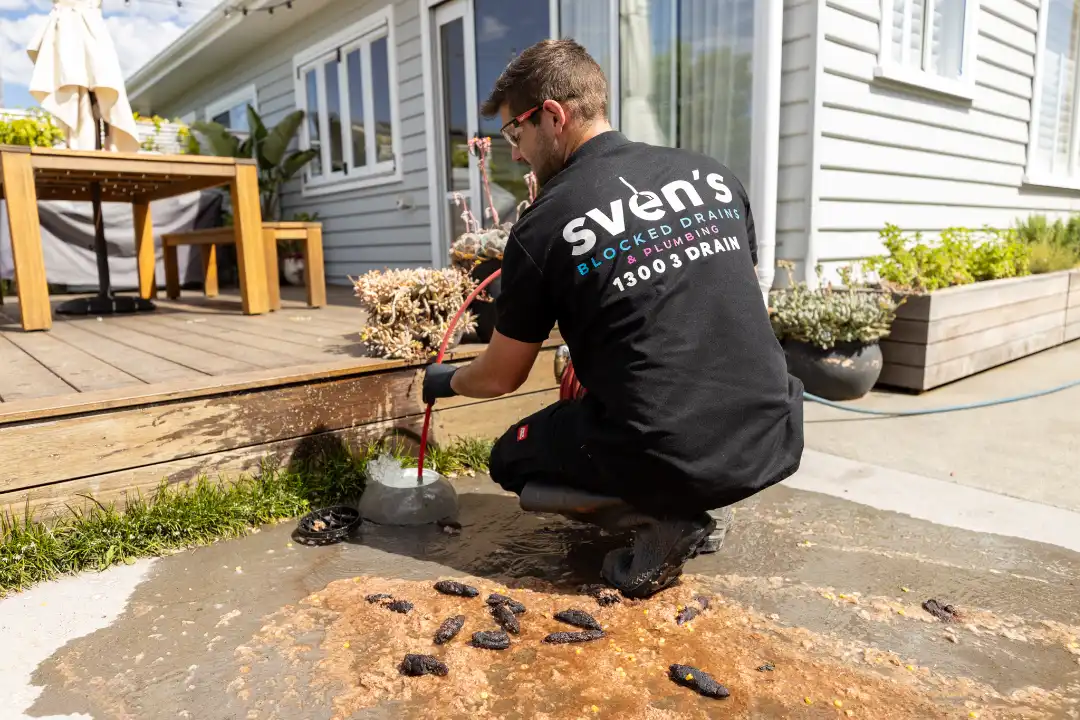 Heidelberg's Blocked Drain Company You Can Trust
Are you looking for professional blocked drain technicians in Heidelberg? Sven's Blocked Drains & Plumbing is a household name in Melbourne's inner east. Our business solely focuses on offering services to non-commercial customers and is proficient at repairing and relining pipes. We always prioritise getting the job done right the first time since we know how challenging it can be for our busy customers to schedule an appointment. 
We love our job, and our passion motivates us to bring the best when handling your blocked drains and other plumbing issues. We continue exploring ways to expand and improve our services thanks to our customers' relentless support. One such example is our robust communication capabilities, which enable us to offer 24/7 emergency services to our customers. If you have trouble with your draining system, call us, and we'll fix it for you immediately.
Please call us for more information about our blocked drain services in Heidelberg.
Sven was very responsive, friendly, on time and quality of work was excellent. Highly recommended.
James Bowman
Super responsive, honest and professional service - highly recommend Sven's Plumbing.
Gabriella Lorenzetti
Such a great experience. So professional, helpful, will definitely use again.
Ben Caruso
Sven's blocked drains did an excellent job at clearing our blocked sewer drain. Turned up on time, cleaned up and we're so lovely to deal with. Best blocked drain service around
Brayden Ward
Called them out for a drain blockage melbourne. Had my blocked drains cleared in no time. Highly recommend Sven's blocked drains for any drain cleaning.
Luke Johnston
One of the best plumbing companies in Melbourne. The way that the plumbers worked was very impressive. They wore boot covers, cleaned up and generally treated my home like a temple. We did not have to do anything after they left. There wasn't even a spec on the floor. So happy with the service provided!
Michael Schulze
The guys at Sven's blocked drains did such a great job at clearing my blocked drain. We had a massive overflow that flooded our house. The guys at Sven's arrived in a timely manner and had the blocked drain sorted in no time.
Jessica Giannasca